Artificial intelligence has penetrated multiple industries with travel no exception, with its potential impact much greater than expected. So how is AI reshaping the travel industry today, especially in the huge Chinese market?
During the recent three-day Mid-Autumn Festival, more than 100 million people traveled around the country, 7.6 percent more than the year before, contributing about 47 billion yuan (US$6.6 billion) in domestic tourism revenue, a year-on-year growth of 8.7 percent.
In the booming Chinese market, AI is altering the way people plan trips, book hotels, find restaurants and visit museums. Chatbots, virtual reality and facial recognition technologies become more popular.
"An AI-enabled trip will definitely provide more convenience. It's a big help for us to prepare a trip in advance, such as to buy tickets, compare prices and recommend sights," said Qian Xiaoyan, a Lonely Planet author.
A smart trip in the AI era might start from the visa application.
In the future, Chinese travelers do not need to line up for hours and fill in a pile of forms. They can simply scan their passport or ID card using a mobile phone, and the application form will be completed automatically; the visa photo can probably be a selfie. Progress can be checked and tracked real-time.
Then comes the tailor-made AI-driven travel plan which can be made in seconds based on various requirements, such as air tickets, hotel prices, itinerary, weathers, transport, days of stay and sights to visit.
"But the purpose of travel is so personal and varied. In the current stage, I think AI cannot understand us so well," Qian said. "What's the true meaning of travel? It lies in the unexpected incidents — the happy surprises or the terrible moments on the road, which cannot be calculated or controlled by a machine. You need to experience and enjoy it, good or bad."
However, the AI trend is inevitable. When the technology brings faster plans for travelers, it also dramatically alters the way hotels, caterers and other service providers do business.
Ti Gong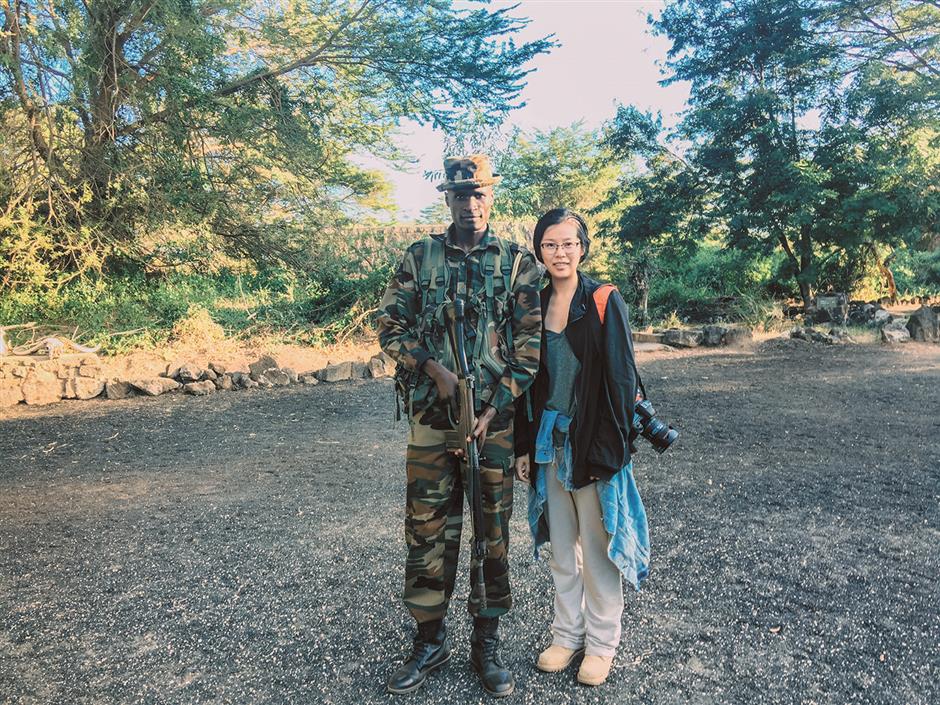 Ti Gong
By the end of last year, more than 60 airports in China, including Shanghai's Pudong, had been equipped with facial recognition systems to speed up security checks.
It takes less than a second for the system to match a passenger's face with his/her ID photo, while checking the validity of the credentials.
In 2016, Alibaba launched a chatbot named "AliMe," who can book air tickets and hotel rooms, and recommend travel destinations, based on customer's online shopping records and browsing preferences.
Used in this way, AI is able to respond to questions and provide valuable information to customers, even when a customer service rep is not available. Customers are demanding faster response times on online platforms, and artificial intelligence allows businesses to achieve that goal that would be impossible for humans.
"Based on a big database, AI is able to analyze travelers of different ages, places and purchase power, which helps hotels find their target customers and deliver ads to them accurately," said Wu Shasha, a photographer and traveler. She once tried an unmanned hotel, which operated on voice prompts.
"It is set up by a routine process, but if the guests encounter detailed, unexpected problems, they still need to find a person to solve them," she said.
Another more widely adopted technology in the travel industry is virtual reality and augmented reality, which act as an on-site voice tour guide and translator in museums, ancient buildings and relics sites. The "Holistic Smart Tourism" AI solution developed by Aibee, a domestic pioneer in the application of AI, has been implanted in more than 150 popular scenic spots in China.
Wudang Mountain Scenic Park is an example. People enter the park by facial recognition after buying tickets. Audio and pictures are available on a smartphone, and can be shared with WeChat friends.
By scanning a QR code, visitors can obtain the information about nearby hotels, restaurants, entertainments and shopping.
But it also brings some other problems, as Qian pointed out. "How can we protect our privacy if the AI collects our facial or ID information? Is it really efficient? For example, is AI reliable to handle the large crowds of the National Day holiday? These still remain unknown," she said.
Wu also had her concerns. "I think AI trips, to some extent, neglect our elders. The self services of check-in, online booking and facial recognition are more targeted at younger groups, who are more exposed to the Internet. Old people would rather line up than spend time in front of a machine. It's no convenience for them at all," she said.