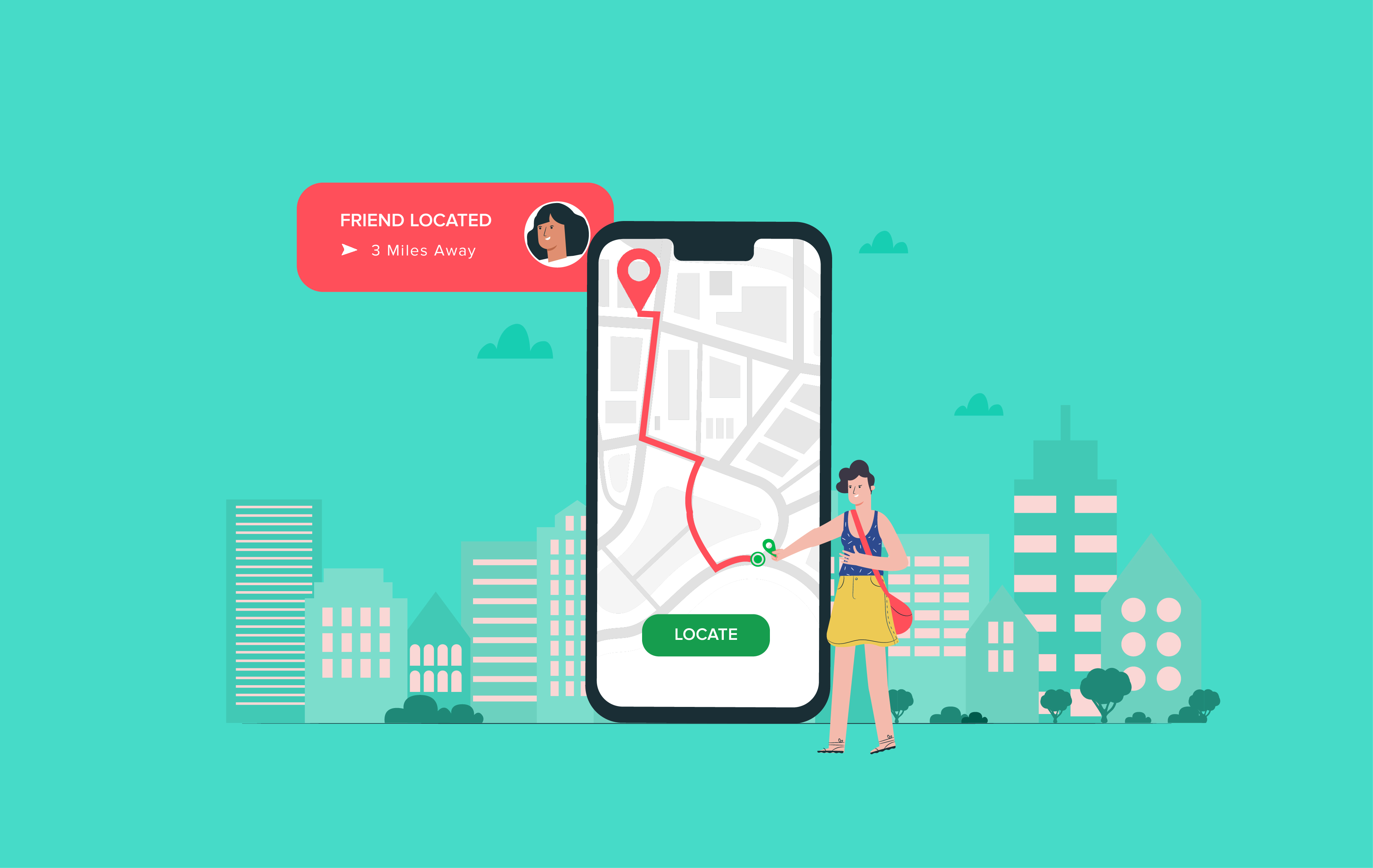 Are you looking for a handy solution to your location sharing & tracking needs? Need to know the whereabouts of your kids, friends, or family members? Your go-to fix is any reliable tracker app that allows you to check the real-time location of your loved ones remotely and even track your stolen or lost mobile through the 'share location' option.
With a wide range of phone location tracker apps available for you to choose from these days, picking the right application can be a bit daunting. But worry not! Today, we will give you a roundup of the eight best location tracker app for Android and iOS to find the one that suits you better.
1. Find My iPhone
Find My iPhone is one of the best iPhone location tracker apps that lets you locate the whereabouts of your spouse, kids, friends, peers, as well as, find the devices signed into your iCloud account. For location tracking, just turn on the 'family sharing' feature in all the iPhones.
If any person in your contact list does not have the location-sharing option enabled, you can play a sound on their mobile. It is a built-in free app for the iPhone, which currently has three tabs, i.e., People, Devices, and Me. The iPhone location tracking app can also help you find your Apple device even if it is offline.
Notable features of Find My iPhone tracker app:
Remotely erase the content and settings of a device;
Provide driving directions to device location;
Battery charge indicator;
Remotely lock the device with a passcode and more.
Download this location tracker app for iOS
2. mSpy
mSpy is a popular iPhone and Android family tracker. It provides a way to stay connected with your loved ones and remain updated about their whereabouts. It includes a real-time GPS tracker for cell phones, location history, geo-fencing, contact list monitoring, and an alarm button for the kids or elderly family members to indicate emergencies.
There are three main packages of this real time location tracking app, which include Phone, Computer, and Bundle. All of these comes with different price tags.
Notable features of the mSpy app:
Monitor sent/received text messages;
Read messaging apps;
Restrict incoming calls;
Track real-time location and more.
Download this location tracker app for iOS and Android
3. Google Maps
Google Maps is surely one of the best and most popular family location tracking apps for iPhone and Android mobiles. With a recent 'share location' feature added, it has become even more accurate and reliable as a tracking application. It has a user-friendly interface and plenty of options to customize the real-time location tracking requirements.
The Google location tracking app also keeps a record of the past locations and displays them on the timeline. The free app enables you to manage the sharing options, as well. For example, you can choose the people to share the position and the duration. All these features make it a definite must for iPhone & Android users.
Notable features of the Google Maps app:
Real-time ETAs and traffic conditions;
Ride-share with real-time transit info;
Automatic rerouting based on live traffic;
Indoor maps to quickly the way and more.
Download this location tracker app for iOS and Android
4. FamiSafe
With Famisafe, you can benefit from geo-fencing, smart parental control setting, app blocker & web filtering, location tracking, web filtering, screen time control, and emergency alerts. Using geofencing, you can create your own customized virtual safety zones like your kid's school or your grandparent's clinic on their cell phones.
You'll get alerts when your kid or grandparent enters or leaves the zone. It's a great application that updates you about the loved one's whereabouts without any stress. Famisafe comes with a 3-day free trial and is available for both iPhone and Android platforms.
Notable features of FamiSafe app:
Track inappropriate content in kids' social media apps;
Real-time alerts to signs of suicide, cyberbullying, and adult content
Flexible warning keywords adding;
Real-time alerts about detected photos and more.
Download this location tracker app for iOS and Android
5. Life360 – Family Locator
Family Locator is one of the best location tracker apps that is reliable and user-friendly. The phone app provides you with a smart and easy way to monitor your kid's location or keep a check on your friend's whereabouts in real-time.
The mobile location tracker app also includes cross-platform location sharing and in-app messaging. Moreover, it allows you to turn off the sharing feature in case you do not want your current location to be disclosed. The in-app purchase for the tracker starts at $1.5, while the premium plan starts at $4.99.
Notable features of Family Locator app:
Option to create private groups called "Circles;"
Real-time location of Circle Members;
Tracks location of stolen or lost phones;
A single push connects the user to a representative over the phone and more.
Download this location tracker app for iOS and Android
6. Spyzie
Are you looking for an all-in-one handy Android and iPhone tracker with a user-friendly interface? If yes, then better install Spyzie. The cell phone location tracker app is the perfect solution to the location sharing and tracking needs.
It offers a wide range of features such as geo-fencing, real-time location tracking of target devices, a web-based interface that you can remotely access, stealth mode, and access to your social media feeds, etc. You can learn about the target device's past locations, call logs, keylogger, and contacts without any hassle.
With a premium plan starting at $29.99 and an ultimate edition at $49.99, this is the most reliable application to stay connected with your friends and loved ones.
Notable features of Spyzie app:
Geo-fences monitoring;
Call logs monitoring;
Employee tracking;
Password manager and more.
Download this location tracker app  for iOS and Android
7. Glympse
Glympse is among the most popular location sharing and tracking apps. It has been exclusively designed to offer real-time tracking. Although it does not include stealth mode, it features a range of other functionalities such as location sharing without any downloads, instant alerts, navigation options, geo-fencing, and in-app messaging.
This iOS and Android location tracking app also allow you to manually turn on/off the location tracking and supports cross-platform location sharing.
Notable features of the Glympse location share app:
Location sharing in real-time with dynamic map;
Direct emergency or roadside assistance;
Provide a courtesy notice with ETA;
No sign-up required and more.
Download this location tracker app for iOS and Android
8. Hoverwatch
Hoverwatch is a high-tech, easy to use tracking application for Android, Windows and Mac OS X. With a price tag of only $24.95 (1 device, personal use), the app comes packed with a slew of impressive features like instant alerts, geofencing, a web-based dashboard, and recording of text messages and calls.
You can also integrate it with other applications such as Whatsapp, Skype, and Viber. Just turn on the family sharing feature in the app and use the parental control settings to begin monitoring your kid's activity or tracking their locations when required.
Notable features of Hoverwatch app:
Remain completely invisible;
Message tracking;
GPS mobile tracker;
Facebook, Viber & WhatsApp tracking and more.
Download this location tracker app for Android
MAD Recommendation
Best Tracking App for iPhone
Best Tracking App for Android
Tracking Apps for Android and iPhone: The EndNote
We have picked these tracking apps based upon the customer reviews and ratings. Also, we have taken the convenience and affordability of these apps into account. All the apps include a wide array of spying tools that are developed by some of the top developers of the app industry.
Many of the tracker apps mentioned in this article are free and others have subscription plans. The subscription plans differ and are curated as per the features.
If you are still looking for more options, here are more iPhone tracker top 10 iPhone family trackers that will help you track your loved ones.
Written By
Vikram is an experienced wunderkind, who embraced technology at a very early age, and today he is at the helm of it. Mobile apps are something that excites him the most, and now he is up to give this vertical the best shot. He routinely catches up with the new apps and comes up with the top apps that can excite you to the core.
Follow